Google Forms is a popular tool for creating and conducting surveys, quizzes, and other types of online forms. Its strengths include its simplicity and ease of use, as well as its integration with other Google apps. However Google Forms may not be suitable for creating complex forms with advanced features, and it also offers limited control over the design and branding of forms.
An ideal Google Forms alternative would provide more advanced features and customization options for creating complex forms, including conditional logic, branching, skip logic, display rules and advanced question types. It would also offer greater control over the design and branding of forms, with a range of templates and customization options available.
In addition, an alternative to Google Forms would ideally offer robust data analysis and reporting features, with the ability to generate charts, graphs, and other visualizations. Who then comes in?
Top 8 Google Forms alternatives


QPoint Survey - €20/month or Free

(includes branching, skip logic, CRM and email outreach)

SurveyMonkey - €36/month or Free
TypeForm - €25/month or Free

JotForm

- €32/month or Free

SurveyHero - €21/month or Free

SmartSurvey - €23/month or Free

LimeSurvey - €27/month or Free

Survicate - €99/month or Free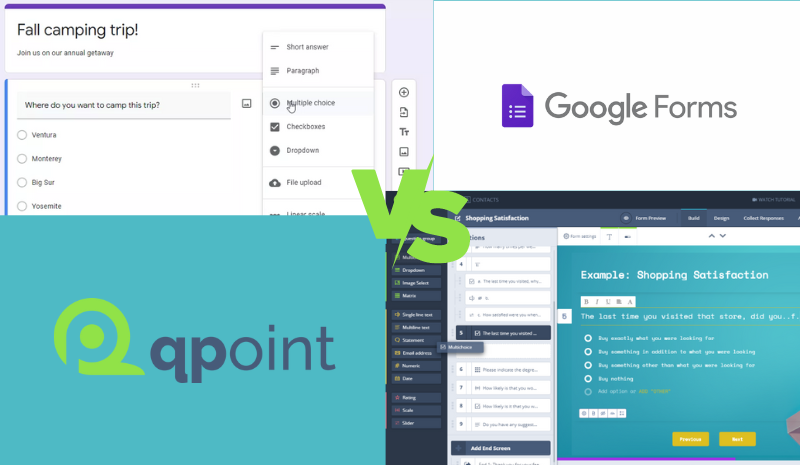 If you're searching for a robust Google Forms alternative, look no further than QPoint Survey. This online survey and form builder offers a comprehensive set of features and customization options that can help you create powerful surveys and forms.
Design and Interface
One of the standout features of QPoint Survey is its intuitive and modern interface that makes designing surveys and forms a breeze. The drag-and-drop functionality and the range of question types make it easy to customize your surveys to your exact needs. Plus, you can add your branding, images, and colors to make your surveys more engaging and professional.
Forms Builder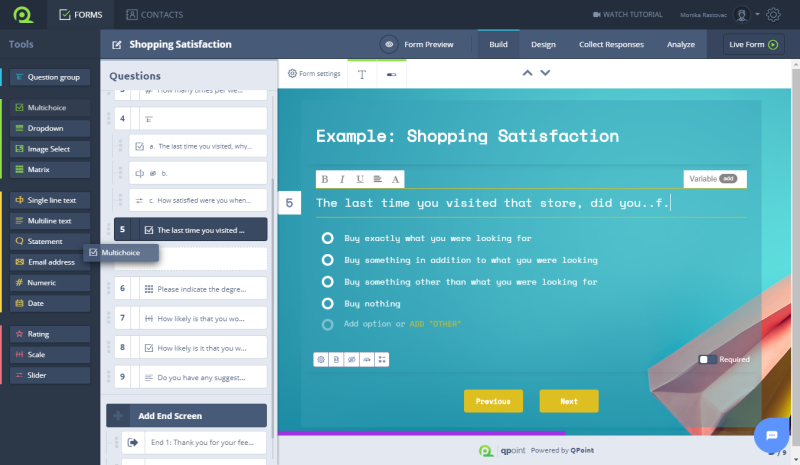 Custom Branding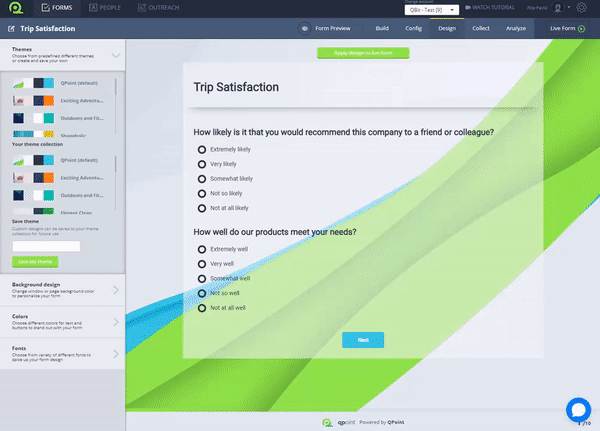 Conditional Logic
Surveys, Forms and Quizzes go much deeper than that, and when you go deeper, they are extremely helpful, even crucial, in getting you the real results and insight that you are looking for to make your business more successful and profitable by connecting to your customers and understanding their needs and wants.
In the business of survey makers that depth is called Conditional Logic. It's usually segmented in three parts: Skip Logic, Display Logic and Compute. We'll briefly go through what each term actually means.

Skip Logic
As we mentioned before, Skip Logic is one of the most powerful tools you can use in a Survey. In short, you can use Skip Logic for branched Form, Survey or Quiz. You can direct a respondent to any of the next questions in relation with respondent's answer to a certain question. Skip logic determines which question respondent will see next, according to his answers. Skip logic is one of the most beneficial tools that can be used in Surveys, because it gives you a clear understanding of what your customers and clients are interested in. All you have to do is read the collected data and analyze it, which QPoint does for you.

Display Logic and Compute
You can also use Display Logic in a similar way, but it's still different. Display logic allows you to display a certain question in a Form or a Survey considering the previous responses. Consequently, by setting a display logic to a particular question, you define the conditions that precede and which must be met to display that question.
Finally, one of the most advanced options that a survey can give you is the option to Compute. What Compute does is that it allows you to have a score for your survey or quiz. Depending on the respondents' answers, the Survey will give them a specific score or redirect them to the appropriate End Screen with their results explained. It's best to look into one of the examples to understand how it works.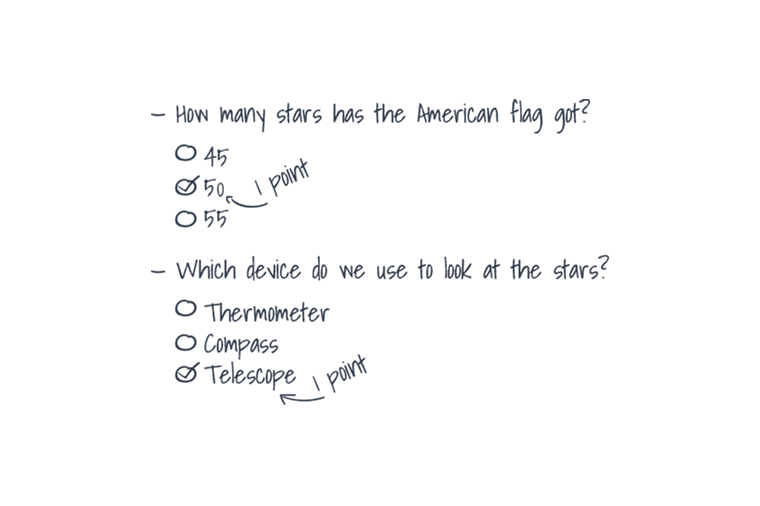 Does it pay off to pay for Advanced Logic?
Those three advanced logics are quite common, but the old proverb applies: you get what you pay for. There are obviously free sites like Google Forms that offer you basic options for your Surveys, but can you get much more with advanced options that other sites offer? Of course you can.
One of those options is QPoint Survey, which also offers a free option. But additionally, you can take advantage of more advanced options for the less price than the competition offers. And once you do, you can discover how powerful tool it really is, and how much you can benefit from your Surveys.
For starters, it is really simple to use, let's you be creative with your Forms. Building a Form is actually fun, instead of being a chore with complex and unintuitive options like many form building tools have. QPoint Form Builder is just the opposite: it's really intuitive and easy to use, based on the simple "drag & drop" logic.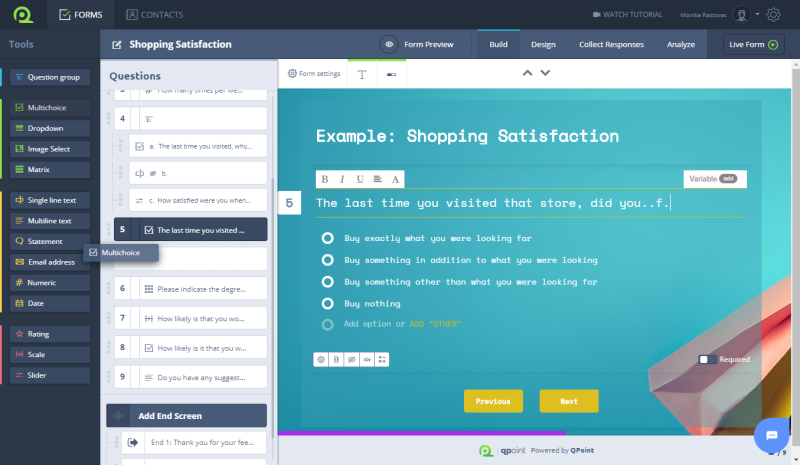 Data collection and analyzing tool
Probably the most powerful feature that QPoint offers is the data collection and analyzing tool. As mentioned before it offers you a full analysis of your customers' responses, complete with pie charts, and graphs. It enables you to review individual responses for a specific questions.
You can also export the results to Excel table or PDF for further analysis. Additional benefit is that you can contact the staff via real-time chat for help, someone is always there to answer your questions.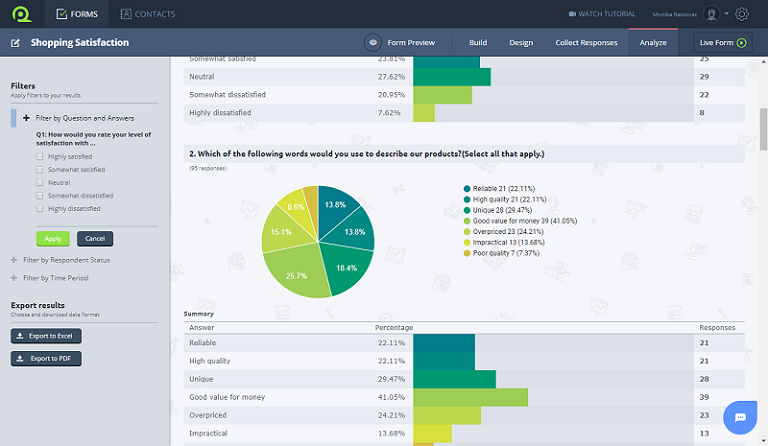 Why is QPoint an alternative option
It offers you the whole array of tools - mandatory questions, multiple questions, matrix inquiries, sliders for percentages or any kind of grades: you name it - QPoint has it. It also offers advanced features like skip logic, display rules, compute, multiple end screens, and much more.
One of the nifty features is that the Form or a Survey that you are building is completely customizable. You can make your Form, Survey or Quiz really stand out with custom background picture, additional images for each question, you can style your text with a bunch of fonts that are ready for you to use, add videos and much more.
Conclusion
So if you are looking for a Google Forms alternative, QPoint has a lot to offer. With it you'll also get a lot of help about how to make a perfect Survey, how to collect responses for your Form, Survey or Quiz, and much more in the help section.
Continue Reading: